What to Expect
Bookings for the zip slide experience can be made via the Sun City Welcome Centre Information desk by calling 014-5571544.

Pricing
Midweek: R650
Weekends: R740

DAY VISITORS ONLY HAVE ACCESS TO SUN CITY RESORT VIA THE PURCHASE OF A TICKET ON TICKETPRO

Departures to the zip slide are every two hours, every day except Mondays. Tours leave the Welcome Centre at 9:00, 11:00, 13:00 and 15:00. There is only room on the tours for 16, people - 10-12 sliders and 4-6 spectators - so booking is essential. Spectator fee is R100 per person. You are transported to the start of the Zip 2000 is on the top of a koppie, 5-minutes from Sun City where you can watch the action and see the best views of the Palace of the Lost City, the Valley of the Waves and Sun City's golf courses.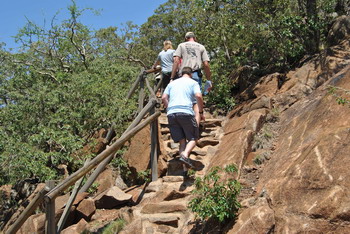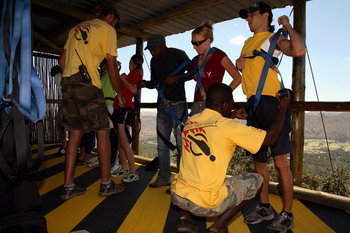 At the start you are given a full briefing where you are told everything about the ride and can ask any questions. Then you can enjoy the view of Sun City and take photographs while the first riders are strapped in. The they assume the launch position and a final safety check. Then "3 – 2 – 1" and you're off.
The ride starts just 2m above the ground but the ground falls away rapidly to 100m. Speed builds up rapidly as you fly out from the koppie. With heights varying between 3m and 280m. You reach a fastest speed of 140-160 km/h over a ride of 1 minute, averaging 120km/h. You experience the feeling of flying and acceleration as you descend down the wire. The cable runs from the top of the 280m high koppie (hill) to the top of a mast 2km away. Towards the end of the ride, the decent is slowed as you go uphill, then you roll back to the lowest point on the wire where you are assisted to dismount the ride.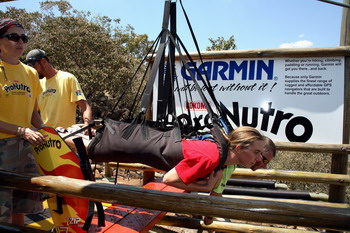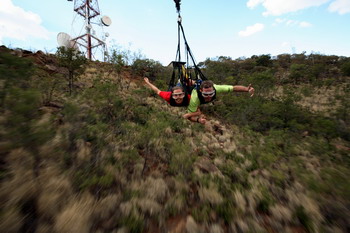 On corporate events participants are given sand bags to 'bomb' a target close to the end of the ride. After the dismount you get to watch the rest of the group as they take their rides. After a debriefing when you remember to breathe for the first time, riders are transported back to the Welcome Centre. Most people prefer to wind down at The Pilansberg Brewery Bar on their way back. Many people take videos of the ride and are welcome to submit them for posting on our main website.